Automation Gadget Geeks Rejoice! Bluetooth HART Modem!
From the press release:
World's Only Explosion Proof Bluetooth HART Modem for Smart Instrument Communication Improves Safety and Reduces Costs
ProComSol, Ltd., has announced the release of a unique product for smart plant instrument communication.  The HM-BT-VIN, HART Modem Bluetooth Voltage Input, is the only explosion proof Bluetooth HART modem available to the market.  HART technology is the global standard for smart communication of instrumentation and measurement for plant and process automation.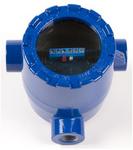 By eliminating the need to perform gas sniff tests or obtain hazardous area work permits, productivity and safety are increased.  The HM-BT-VIN is always on and connected, so you do not have climb ladders or scaffolds to remove instrument covers.  Access HART instruments while safely on the ground.  The HM-BT-VIN is approved by CSA to be explosion proof for: Class I Groups B, C and D. Class II Groups E, F and G. "The freedom of movement that Bluetooth offers is a tremendous advantage to HART instrumentation professionals.  Combine that with safe operation in an explosive environment, and you now have huge cost and safety improvements in the plant", says Jeffrey Dobos, President of ProComSol, Ltd. No additional software drivers are needed to use the HM-BT-VIN.  After a onetime Bluetooth Discovery operation, the modem appears as a Serial Port to the operating system.  This allows any Windows software package to interface with the modem.  This includes handheld PDA's. The HM-BT-VIN meets industry standards for both Bluetooth and HART connectivity.  The Bluetooth interface meets Bluetooth v1.2 standards and is registered with the FCC.  The HART interface meets the HART physical layer specification HCF_SPEC-54. Datasheets, User Manuals, and HART Configuration software are available on the company website,
www.procomsol.com
.  The website also provides online ecommerce.