Guidelines for Safe and Reliable Instrumented Protective Systems
Angela Summers, recent inductee into the Process Automation Hall of Fame, sent me a copy of her new book 
Guidelines for Safe and Reliable Instrumented Protective Systems
, which you can buy on Amazon.com.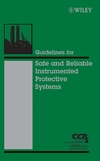 She's the principal author, ably assisted by a committee that reads like the
Who's Who of Safety Instrumented Systems
:
Dave Deibert, Chair; Air Products and Chemicals Inc.
Arthur Schwartz; Bayer (retired)
Doug Cates; Celanese
Bob Roubion; Degussa
Greg Schultz; The Dow Chemical Company
Helmut Bezecny; also from Dow
Richard Dunn; Dupont
Jan Windhorst; Novachem
Dallas Green; Rohm and Haas
Randy Freeman; Safety and Property Protection Consulting, and
Adrian L. Sepeda; Center for Chemical Process Safety liason
So what's good about this book? As you can see
if you go look at the Table of Contents
, the book is incredibly detailed and carries you from "I don't know nothin' 'bout birthin' no babies, Miss Scarlet!" to being able to think you might pass the FSE exam to become a Functional Safety Engineer/Expert. "The target users of this book," it says in the Introduction, "are the various disciplines responsible for safe and reliable operation in the process industry." This book is designed to mimic project design, from investigation to analysis, to implementation and commissioning. Just the list of acronyms is worth the price of the book.